There aren't many things in this world I take seriously. Academics, my job, and my personal health are all things that take a back seat to life's far more important offerings. Things like zombie movies, whiskey, and browsing the camping section at Walmart while wishing I would have done well enough in school to have earned a better job so that I wouldn't have to drink myself into oblivion every night in ill-fated attempts at coping with the fact that I now have to live in a tent because I'm a complete failure. Also, hamburgers. I love hamburgers.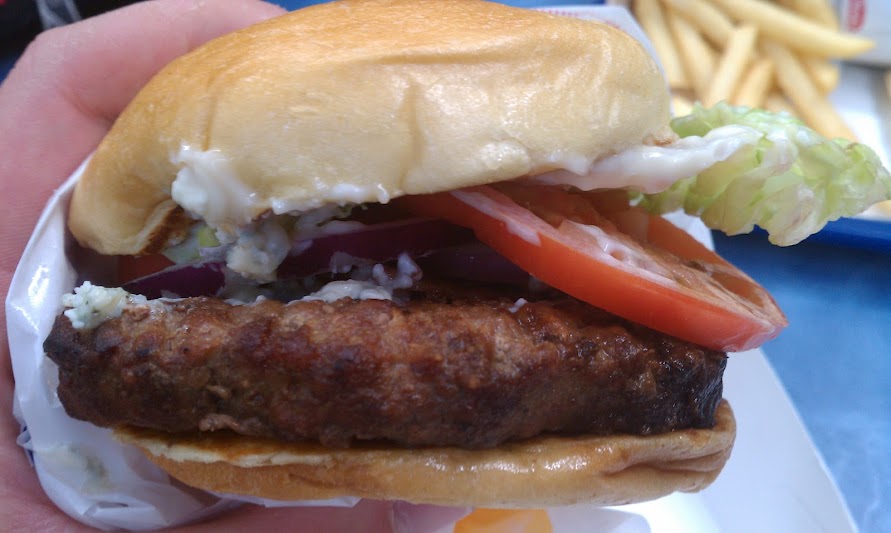 Generally speaking, I tend to separate burgers into a few different sub-categories; low-end, middle class, and the 1%. Low-end burgers are what you'd expect to find at most fast food joints. It isn't that they are bad by any means, it's just that they are quickly thrown together with less-that-fresh ingredients. Their biggest advantages are being quick, readily available, and inexpensive.
Middle class burgers are usually what you or I would make at home ourselves, or what you'd find at establishments like local diners, sit-down casual restaurants, and burger specialty joints like Five Guys Burgers and Fries. These burgers are served in casual environments, cost $10 – $15 served with a side and drink, and are often far more delicious than their low-end brethren.
Then you have the snoody, expensive 1%. I've never tasted one of these luxurious burgers and until I break the habit of being poor and wearing the same pair of blue-jeans for months at a time, I never will.
Burger King's new Chef's Choice Burgers are an attempt at serving a seemingly middle class burger and low-end burger prices, with the convenience associated with fast food. This happens all the time (hell, it is Hardee's entire business strategy), but rarely turn out to be anything more than low-end burgers getting dressed up for an interview at a job they're not qualified to work. And while Burger King's Bacon and Bleu burger looks handsome in its tasty attire, the more you get to know it, the more you realize it's nothing special.
And that is precisely the problem with BK's newest attempt at crafting a faux middle class burger. It is quite simple nothing special. While I do admit that the artisan-style bun is actually rather delicious, I also acknowledge that it is the best part of the burger. The tomatoes, red onions, and romaine lettuce are all standard fast food fare, and the ground chuck patty lacks much flavor. However, the bacon was crisp and possessed a nice texture, and the signature bleu cheese was plentiful and melted over the patty.
The sad thing is, there was far too much bleu cheese on the burger. So much so that absolutely the flavor of absolutely every other ingredient was lost in the overpowering musk of the cheese. The bacon, beef, mayo… hell, even the red onions lacked the ability to maintain or establish a presence thanks to the surplus of bleu cheese.
And $6.99 for the sandwich alone? Ridiculous. Seven bucks before tax for a mid-sized burger with a fancy-sounding moniker slapped onto it is quite simply unreasonable for a hastily prepared  fast food burger. Seven dollars for a meal would have suited me just fine, but this product is a mere $3 away from what you'd spend on a meal at a dedicated burger establishment, and leagues away from being comparable in quality.
Does it Hit the Spot?
Honestly, I cannot say that it does. Burger King's Bacon and Bleu Chef's Choice Burger might fill you up, but not without putting a sizable dent in your wallet and leaving you feeling remorseful for spending seven dollars on a burger that falls below mediocre in quality. The flavor consists almost exclusively of bleu cheese, leaving an offensive taste in your mouth and horrible odor on your breath. While it certainly isn't the worst burger you'll find in a fast food establishment, it's pretty close and is no where near worth the asking price.
Other reviews: